Custom solutions for power distribution PANELS, SWITCH PANELS, INSTRUMENT PANELS & ENCLOSURE ASSEMBLIES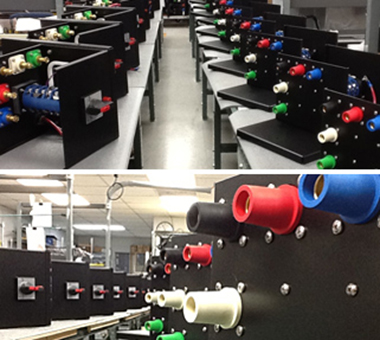 Paneltronics is a turnkey manufacturer of electrical power distribution panels, instruments panels, switch panels and enclosure box-build assemblies for Original Equipment Manufacturers - OEMs. These products gave us our start in 1979 and continue to be the main stay of our business.
Paneltronics' OEM customers rely on our design, engineering and manufacturing expertise to deliver custom panels, systems, and assemblies that are technically superior, quality built, and can be trusted to perform reliably. Our flexibility allows us to build-to-print or fully deliver from concept through completion.
CLICK HERE to view gallery of custom panels.
Vertically Integrated Manufacturing
3D-CAD SolidWorks® and AutoCAD®
CNC Sheet Metal Punching
CNC Milling and Routing
Welding and Sheet Metal Fabrication
Painting
Hydrographic Film Application
UV Digital Printing
Silk-Screen Printing
Wire Harness Assembly
Wire Imprinting
Electro-Mechanical Production Line Assembly
Foam-in-Place Packaging
Vertically Integrated Engineering
Application Engineering
Mechanical Design and Engineering
Electrical Design and Engineering
We Manufacture Products for:
Adventure Vans
Boats and Yachts
Construction Equipment
Communication Vehicles
Data Vans
Display & Merchandising Vehicles
Emergency Vehicles
Fire Trucks
Generators
Golf & Turf Tractors
Ground Support Equipment
Light Towers
Military
Mobile Command Vehicles
Mobile Grooming Vans
Off-Highway Vehicles
Recreational Vehicles
Data Vans
Motor Coaches
Specialty Vehicles
Tactical Shelters
Click on thumbnail below to view larger image.